At Mayfield we are committed to investing in relationships to create meaningful opportunities to advance diversity and inclusion in tech. In 2020 we announced our Access for All program, through which we affiliate with leading community organizations to address systemic barriers to opportunity. Since then we've pledged 1% of our yearly management fee and carry, partnered with organizations including Neythri, Him For Her and others, and launched our Access for All Summer Fellows Program in collaboration with College Track. 
College Track equips talented scholars from low-income households to be the first in their family to graduate from college, and we're proud to partner with them on our Access for All Summer Fellows Program. Together we place interns at some of our portfolio companies for career-accelerating opportunities.
Today I'm excited to introduce our 5 fellows for 2022, who will be supporting Immersa, Mammoth Biosciences, Outreach and SeekOut in a variety of roles, including sales, people ops, RevOps, data engineering and diagnostic innovation. Please join me in welcoming the 2021 Mayfield Summer Fellows, and learn a bit more about them below.
Samara Benjamin (she/her)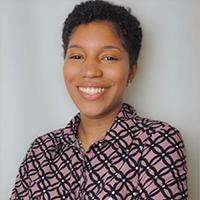 Hometown: Sacramento, CA
University & Major: Delaware State University '23, Psychology
Internship: Sales Development Intern, Outreach
"I am most excited for building relationships with my sales development team and providing strong customer service. A fun fact about myself is I am a huge San Francisco 49ers fan." 
Daren Cheng (he/him)
Hometown: Oakland, CA
University & Major: San Jose State University '24, Industrial and Systems Engineering
Internship: RevOps Intern, Immersa
"I am most excited about learning and finally working in person along side a talented and seasoned team. Two fun facts are I love to swim and surf, and McLaren F1 team is my favorite F1 team." 
Hana Fentahun (she/her)
Hometown: Aurora, CO
University & Major: George Washington University '23
Internship: People Team Intern, SeekOut
"I'm very excited to gain some experience assisting and observing how various Diversity, Equity, Inclusion, and Belonging initiatives are formed and implemented, as well as organizing and supporting employee engagement events. I was born in Ethiopia and I can speak, read, and write in my native language."
William Ho (he/him)
Hometown: San Francisco, CA
University & Major: UC Santa Cruz '25, Computer Science
Internship: Data Engineering Intern, Immersa
"I'm most excited about building data pipelines and just learning more about what a Data Engineer does. Also interested in learning about how a smaller company works compared to a large company. I enjoy playing tennis in my free time and I've been playing since the 5th grade."
PeiWen Xiao (she/her)
Hometown: Oakland, CA
University & Major: UC Berkeley '23, Bioengineering
Internship: Diagnostic Innovation Intern, Mammoth Biosciences
"Through this internship, I am excited to work on and see the translation of concepts I have learned in my classes into tangible tools and technologies that can benefit others. In my free time, I like to draw and paint with different mediums and fold origami cranes."
Congratulations to our fellows – looking forward to a bright future ahead powered by the next generation of tech leaders!